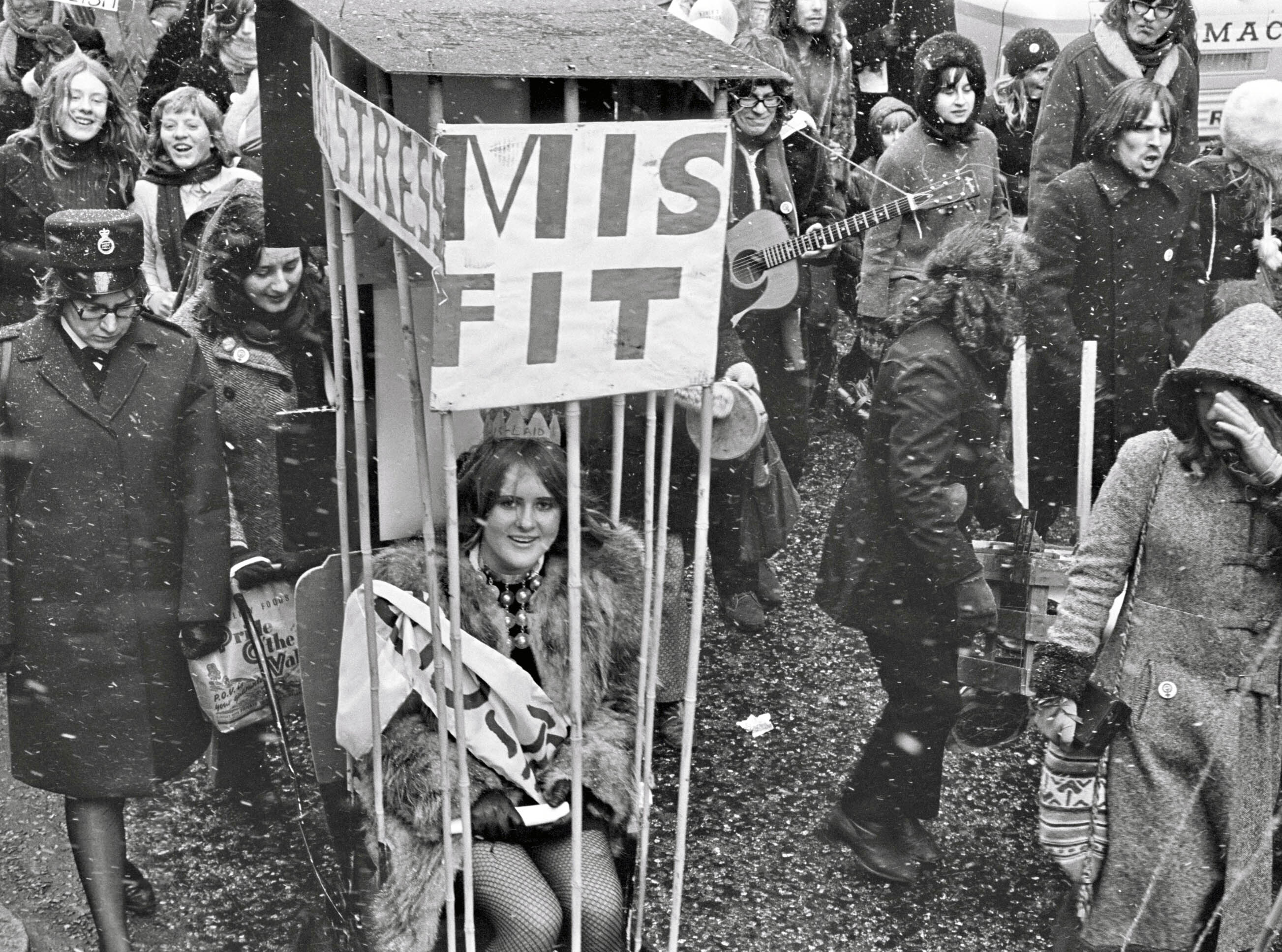 Photographing Protest: resistance through a feminist lens
---
Our new exhibition celebrates images by feminist photographers, who have used their cameras to support social change in Britain from 1968 to the present.
18 March - 7 May
Free Entry | No booking required
Gallery hours:
Tuesday to Saturday 11am – 6pm
(8pm on Thursdays)
Closed on Sundays and Mondays
---
Photographing Protest explores how women and nonbinary photographers, and those making work within a feminist context have shaped the representation of public protest. Posing a challenge to the male-dominated history of reportage, it explores how photographers have created alternative, feminist narratives. From sit-ins to street theatre, candlelight vigils to deportation campaigns, their images resonate across the generations in struggles for gender equality, social justice and civil rights.
The exhibition includes work by Fiona Alexander, Katalin Arkell, Angela Christofilou, Elainea Emmott, Sally Fraser, Melanie Friend, Sheila Gray, Sally Greenhill, the Hackney Flashers, Judy Harrison, Tessa Howland, Jess Hurd, Pam Isherwood, Loraine Leeson, Jenny Matthews, Michael Ann Mullen, Maggie Murray, Joanne O'Brien, Raissa Page, Angela Phillips, Brenda Prince, Mary Turner, Bex Wade, Janine Wiedel, Val Wilmer, Mo Wilson and Carole Wright.
---
FEMINISM, PHOTOGRAPHY AND RESISTANCE TALKS
10 March: Against the Tide and Us For All Women
A conversation with Rose Comiskey, Camila Cavalcante and Orla Fitzpatrick about photography, protest and reproductive rights in Ireland and Brazil.
31 March: 'I Cannot Be Sure That I Will Not Be Erased or Voided'
Aga Skrodzka speaks with new media artist Katarzyna Kozyra about her art, female artists in Poland, and her experiments with the camera.
21 April: Organising, Protesting and Taking Pictures
A conversation with Taous Dahmani, Maggie Murray & Joanne O'Brien.
28 April: Feminism, Photography and Resistance Symposium
An afternoon of discussion, talks and screenings with an international cohort of artists, writers, and thinkers
---
PARTNERS
This project is supported using public funding by the National Lottery through Arts Council England, the Netherlands Institute for War, Holocaust and Genocide Studies (NIOD) and the European Commission within the framework of H2020-EU.1.3.2, and through the generous support of the Barry Amiel and Norman Melburn Trust and the Lipman-Miliband Trust.
---
PRESS
Times Radio
London Live TV
Black and White Photography Magazine
Aesthetica Magazine
---
Image: The first Women's Liberation Movement march, London, 1971. © Sally Fraser/reportdigital.co.uk