Small Desk: £175 p/m
Medium Desk: £200 p/m
Large Desk: £225 p/m
(includes storage locker)
Offices: POA
Costs are inclusive of VAT and bills.
Workspace
Join our creative community.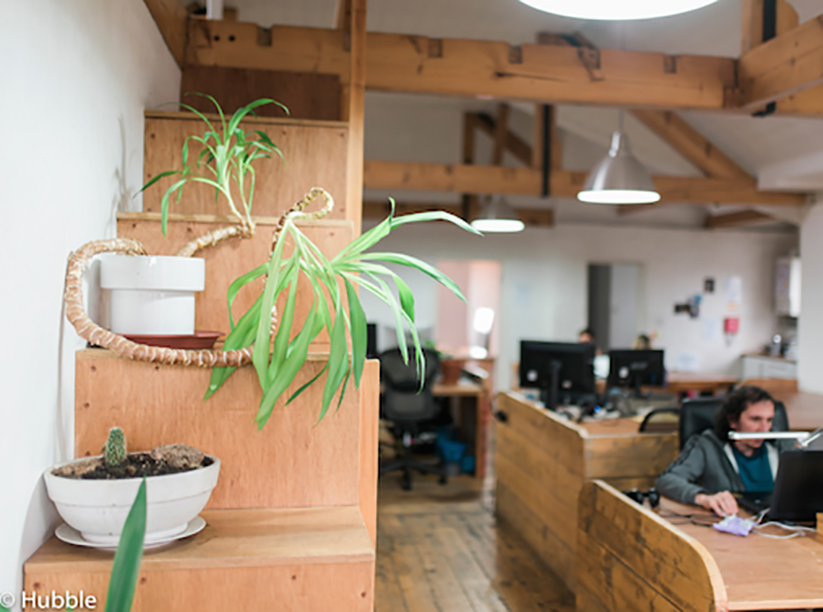 Four Corners is home to over 25 freelancers and small businesses who enjoy our affordable workspace, with free and discounted access to our film and photography production facilities. Our 5-floor building offers both desks and private office spaces, with potential for rental of a whole floor.
CO-WORKING
Located at the top of our building, this combined desk and studio space features a vaulted, double-height ceiling with original wooden beams and good natural daylight.
A relaxed co-working environment for photographers, filmmakers, and other creatives.
Convenient East London location benefitting from excellent transport links
Roof terrace with panoramic views of the City
Photography studio
Membership to our darkrooms
Shower & toilets
Open-plan kitchen
Wi-fi
24hr access
On-site manager and weekly cleaner
Reception
Fixed business address
"Four Corners has always been such a warm and welcoming atmosphere. It was a lifeline to many of us coming out of lockdown and putting in that space between work and home.

The space is warm and well looked after and has fantastic light. Without meeting the other creatives up here, I would have missed out on a couple of freelance job opportunities so it's good for sharing tips about work.

One of the other tenants lent me a camera for a shoot so that was handy. I even got a few headshots done that I needed for work, by a studio photographer who works up here too.

It's quiet enough to focus and chatty enough for the days when you want a second opinion on something. I'll often ask someone what they think of an email before sending it, just to get a fresh pair of eyes.

There's a coffee machine too so I don't miss working in a cafe and spending cash all day! It's also great value for money."

- Katy Palmer
"For me, Four Corners top floor is much more than a lovely, warm desk space and a very comfortable studio. It's about the people and the human scale of things, the communication between the space-mates and the very friendly team of Four Corners itself. Joining when I first arrived in London was one of my best professional decisions I made as a photographer."

- Manos Chatzikonstantis