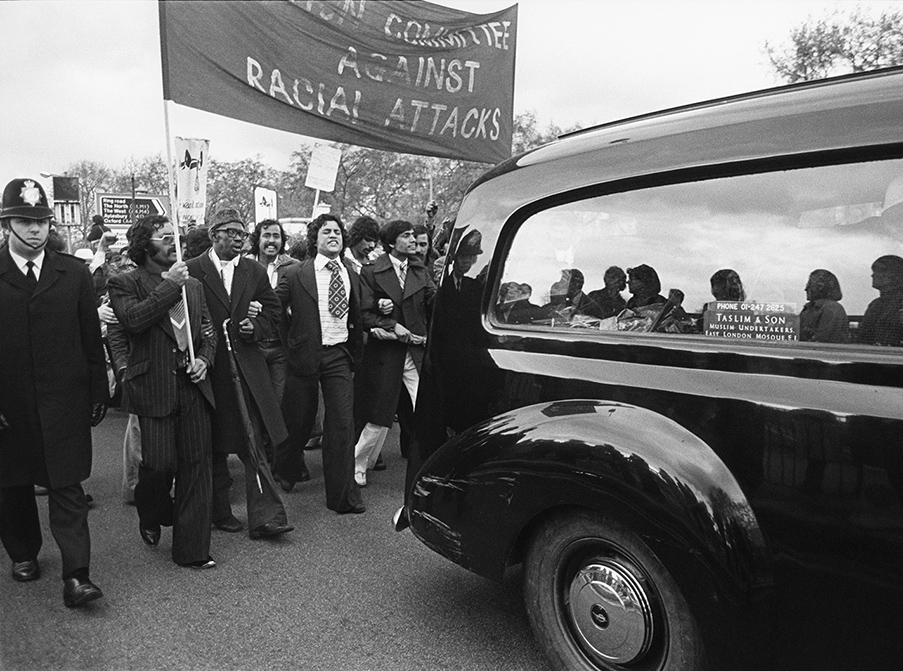 Discover more about the ground-breaking history of Brick Lane 1978 this May, with our window exhibition and online events.
Altab Ali Day is held each year on 4 May. It commemorates the racist murder of a young Bengali man in 1978 and the transformative events that followed. East London's Bengali community mobilised with mass demonstrations, meetings and sit-down protests. Their actions were a turning point in resistance against racism and discrimination in Britain.
Photographer Paul Trevor captured the dramatic events of that year.
Four Corners and Swadhinata Trust are working with local volunteers to record the memories of people involved at the time, as shown in Paul Trevor's photographs.
---

Brick Lane 1978 Window Exhibition | 04 - 28 May | 10.00- 18.00 | Four Corners
Throughout May, you can view Paul Trevor's photographs and hear the voices of activists at our Covid-secure window exhibition.
Remembering Brick Lane 1978 | 06 May | online event
On 06 May we were joined by activist Ayub Korom Ali and trade unionist Dan Jones, as they recalled the ground-breaking year of 1978.
Watch a recording of the event here.
---
Find out more about the Brick Lane 1978: The Turning Point project here.
© Paul Trevor 2021