Brick Lane 1978: Window Exhibition
04 - 28 May | Four Corners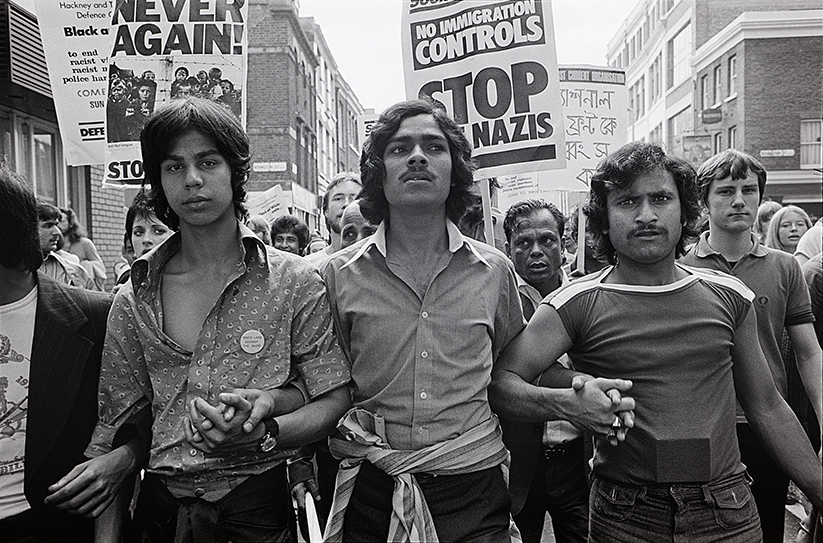 Hackney & Tower Hamlets Defence Committee & Anti-Nazi League protest, August 1978.
Left to Right: Syed Mizan, Jamal Miah, Abdul Manik
© Paul Trevor 2021
"We wanted to defend our community. We wanted to show the world that Altab Ali was a very simple and innocent garments worker who was murdered by racists for no reason. He was simply working in rag trade, and on his way from work to home he was murdered."


"We marched from Brick Lane to Hyde Park corner, we marched to House of Commons, we marched to major roads in London protesting the murder of Altab Ali."


"... there were a huge number of people that needs to be recognised by the community, by the next generation, by the future generations, by the history that you are involved. I think these people need some recognition."

Syed Mizan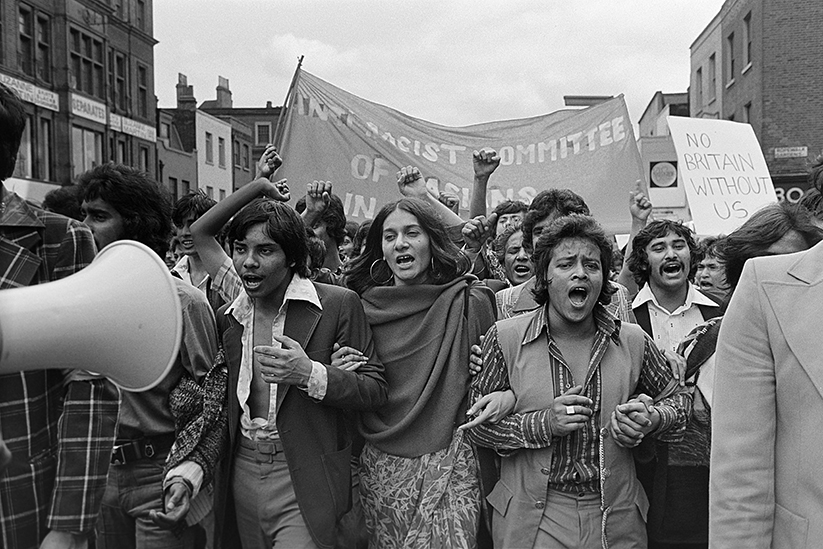 Demonstration of Anti-Racist Committee of Asians in East London (ARCAEL), c. 1976
Left: Chomok Ali Noor. Centre: Mala Sen
© Paul Trevor 2021
"... the Bangladeshi workers who used to work in sweatshops by and large in the East End, experienced a lot of what they called Paki bashing... People would just for fun… they would beat isolated people walking on the streets."


"And there was of course, the death of Altab Ali which caused the huge huge meeting, which of course we went to the community centre and we said we ought to call a protest and get the government to see that this stops because the police are not paying any attention… So from the Altab Ali meeting from the meeting of Anti-Racist Committee of Asians in East London, we called it ARCAEL… huge meeting in a cinema in Brick Lane. And when we called the meeting, we thought we'd get you know fifty people - thousands of people turned up, the cinema was full, and the entire Brick Lane was packed with people listening through loudspeakers outside... and the emotion poured out, the determination to do something poured out."


Farrukh Dhondy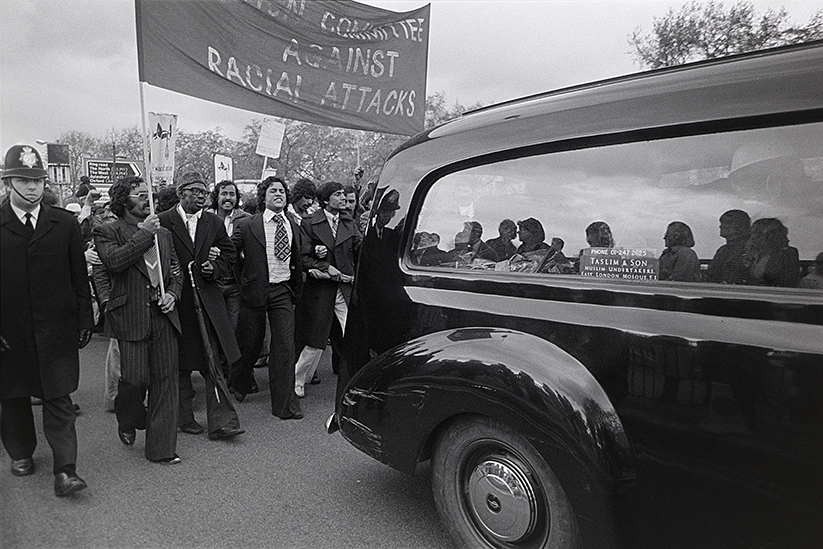 Demonstrators march behind a hearse carrying Altab Ali's coffin, 14 May 1978.
© Paul Trevor 2021
"On the week after that murder had taken place, maybe .. six or 7,000 people, all different backgrounds, came to the park. And we walked behind his coffin in a black... van… We walked to Downing Street to protest and appeal for help. That was an extraordinary gathering of people from different backgrounds, from the mosque, from the churches, all sorts of people, different politics, Anti-Nazi League then joined us, but it was done at no notice, very just quickly from the heart. And it was yes, an important turning point I think."


Dan Jones


"It was cold and wet and horrible, and a lot of people went home before we left Altab Ali Park as it is now… it was you know predominantly Bangladeshis that went, a lot of the men who'd normally be working but would have Sunday off were on it. It was quite remarkable like that… there was a great sense of solidarity in that."


Claire Murphy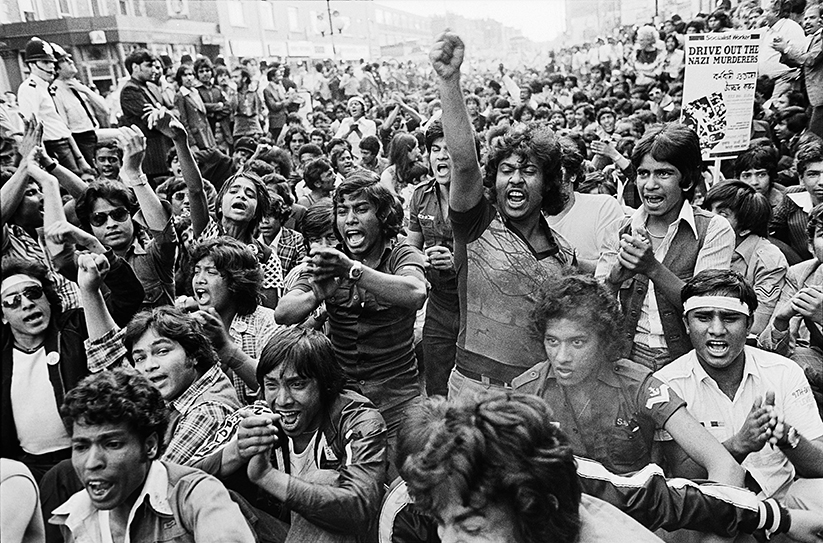 Bengali Youth Movement Against Racism sit-down protest outside Bethnal Green Police Station, 17 July 1978.
© Paul Trevor 2021
"I thought Britain would love us. But in fact it was the opposite, they hated us. So the reason I never had my childhood teenage I was frightened. I was living in fear. We never had a place to go to apart from Brick Lane."


"... people got beaten up in streets, people used to get mugged... after work coming home by racists. Then we came into the realisation that we.. have to fight back. Then all some of the young teenager we named we set up an organisation called Bangladesh Youth Front."


"... 1978, I was 18 or 19 at the time… Then I came to know the name of Altab Ali… We organised a demonstration to march from Whitechapel St Mary's Churchyard to Hyde Park Corner… And that was the day gave us the strength after seeing all these people supported us. All these people was chanting. 'Here to stay. We are here, here to stay'... and there was... slogans saying 'black and white, unite and fight. We are black, we are white, we are united.'"


Rafique Ullah
---
ABOUT THE PROJECT
Altab Ali Day is held each year on 4 May. It commemorates the racist murder of a young Bengali man in 1978 and the transformative events that followed. East London's Bengali community mobilised with mass demonstrations, meetings and sit-down protests. Their actions were a turning point in resistance against racism and discrimination in Britain.
Photographer Paul Trevor captured the dramatic events of that year.
Guided by these photographs, Four Corners and Swadhinata Trust are working with local volunteers to record the memories of people involved at the time, creating a vital record of this watershed moment. You can find out more about the project here.
---
DO YOU REMEMBER THE BATTLE OF BRICK LANE?
We are seeking participants to be interviewed for the Brick Lane 1978 project.
Were you living in the Brick Lane area during the late 1970s?

Do you remember the anti-racist protests galvanised by the murder of Altab Ali?

Were you involved in the protests, either as an activist or witness?
We want to hear from you. Get in touch