Dream. Snap. Freedom: Interview with Susan Trangmar
This series of interviews forms part of the Dream. Snap. Freedom. online exhibition programme. Curated by five Central Saint Martins MA students, the programme brings together work by emerging photographers alongside material from Four Corners Archive to explore radical play through photography.
---
Susan Trangmar is a visual artist who has been practising and exhibiting since the early 1980's. Originally trained as a sculptor at Saint Martins School of Art (now Central Saint Martins), her work employs photography, projection, video and sound in site specific time based and environmental installations. The artworks arise from specific landscape, architectural and social contexts and explore differing cultural productions and representations of space and place. Whilst a consistent focus of the work is on landscape and place (place as a state of mind), Susan also works with the genres of portraiture and so called 'still life'.

We caught up with Susan to find out her thoughts on photography and activism from the early '80s to today's climate.
Tell us the inspiration and process behind the work for 'Same Difference' exhibition?
If I remember rightly the work I showed was 'Tattoo' a photographic/text series which investigated gender through the genre of portraiture and the inscription of surface. I was, and still am interested in the relation between abstraction and figuration and textual rhythm.
Tattoo 1982: A series of 15 b/w photographs exploring the genre of portraiture. Each image portrays a tattooed female face in combination with a lexicon of phrases relating to the word 'tattoo', in order to explore representations of 'the feminine'.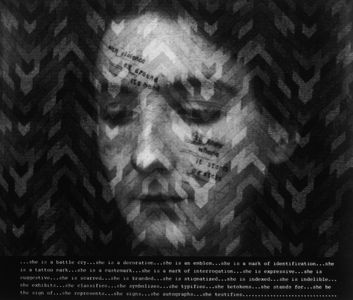 What was the public reaction to the work?
In those days early in the commodification and globalisation of photography as fine art practice, exhibition of work seems in retrospect to have been a more local, collective and intimate experience.
What would you say the role of the photographer is within activism?
'Activism' can quickly become proscriptive and instrumental, so I am wary of terms which are vulnerable to fashion.
With regard to the question, the prevailing debates at the time which concerned me were the politics of representation, issues of the gaze and gendered desire. Given the current cultural and political context, the focus has moved from physical gallery spaces to digital, online and socially engaged practices. My interest has always been with possibilities of critical engagement with the image rather than photography per se.