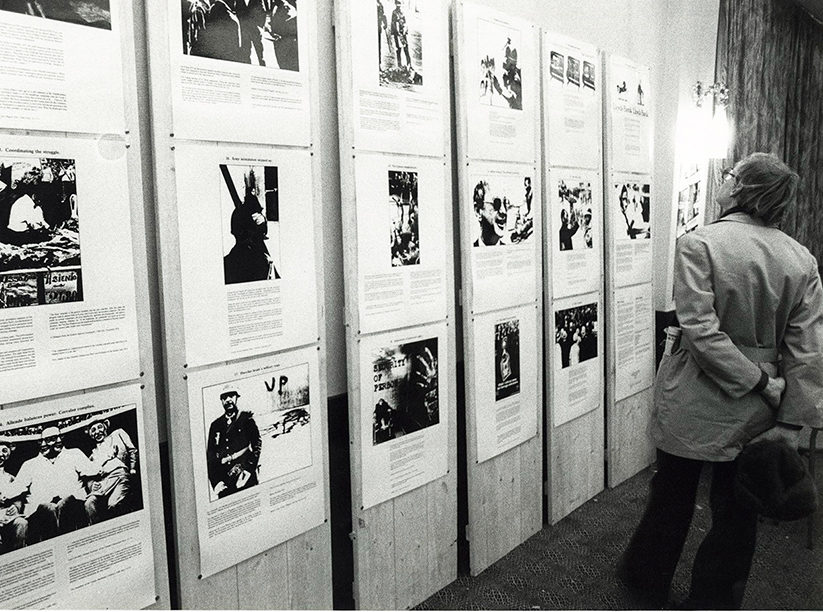 Peter Kennard and Rick Sissions' A Document on Chile, Camden Town Hall, 1978.
---
Hidden Histories is our major archive project, running until 2023, and encompasses a range of collaborations and events.
We are exploring Four Corners Archive, uncovering hidden histories and evolving our collection into an active site for community-focused collaborations, socially-engaged practice, study, exhibitions, and public events. This includes:
1. On the Move: The History of the Half Moon Photography Workshop / Camerawork touring exhibitions, 1976-1984
The Half Moon Photography Workshop (HMPW) played a radical role in reshaping the photographic landscape of Britain. In 1976 they pioneered a programme of laminated touring exhibitions. Over 50 of these affordable, portable exhibitions travelled to venues around the country, from art centres and universities to prisons, churches and laundrettes.
2. Research partnership with the Jo Spence Memorial Library Archive at Birkbeck
Jo Spence was one of the founder members of HMPW and Camerawork magazine. The project is supporting a research archivist to work across the Jo Spence and Four Corners archive collections.
A new collection of images celebrating East London's Bengali community life.
The Bengali Photography Archive brings together a new collection of images celebrating Bengali community life in East London, past and present. From street photography to family portraits, this archive will represent an important history, told by the people who lived it. We invite volunteers to join us in discovering and documenting this exciting new collection.
A collaboration by Four Corners and Swadhinata Trust, the project runs until summer 2023. The photographs will be lodged at the Tower Hamlets Local History Library and Archive, and will also be accessible online, alongside audio and filmed recordings of people's memories.
4. Exhibition on housing and homelessness in East London
In partnership with the Centre for Arts, Memory and Communities, Coventry University, to be held in Spring 2023.
---
UPCOMING EVENTS
Bengali Photo Archive
Scanning Days
Wednesday 16th November 2022, 5 pm - 8 pm
Wednesday 7th December 2022, 5pm - 8pm
Find out more
PAST EVENTS
Out of the Archives Online Talks | February 2021

Collecting Stories of Everyday Life
Lisa Der Weduwe from the Museum of Youth Culture and Geoff Broadway from the Living Memory Project joined us to discuss their work collecting and sharing vernacular photography archives.
Revisiting Radical Community Photography
Looking closer at the radical, youth-led photography projects recording South and East London in the 1970s and 1980s. Photographer Paul Carter discussed his influential Blackfriars Photography Project. Andrew Woodyatt and Tamara Stoll shared their discovery and documentation of the Rio Cinema Archive.
Photographers in the Archives
Heather Agyepong, Anita Corbin and Ingrid Pollard discussed their work revisiting and reactivating photography archives.
Women's History Month Online Talks | March 2021
Bred and Born, Now and Then
Filmmaker and Four Corners' founder member Jo Davis, alongside film participant Carol Wood, shared their memories of making the experimental, feminist documentary Bred and Born.
Independent Miss Craigie: Preview Screening and Filmmakers' Q&A
Independent Miss Craigie is a feature-length biographical documentary exploring the life and work of filmmaker, writer and feminist scholar Jill Craigie (1911 – 99). Director Lizzie Thynne and producer Hollie Price joined us to discuss the film.
Photographing Protest
Photographers Maggie Murray and Angela Christofilou joined us to discuss their work documenting protests, past and present.
---
PRESS
---
PARTNERS
Funded by the National Lottery Heritage Fund, supported by a curatorial research grant from the Paul Mellon Centre.

Project partners are Bishopsgate Insitute, Centre for Arts, Memory & Communities at Coventry University, Feminist Library, Jo Spence Memorial Library at Birkbeck, Mayday Rooms, Swadhinata Trust, Tower Hamlets Local History Library & Archives.