Open Call for Archive Material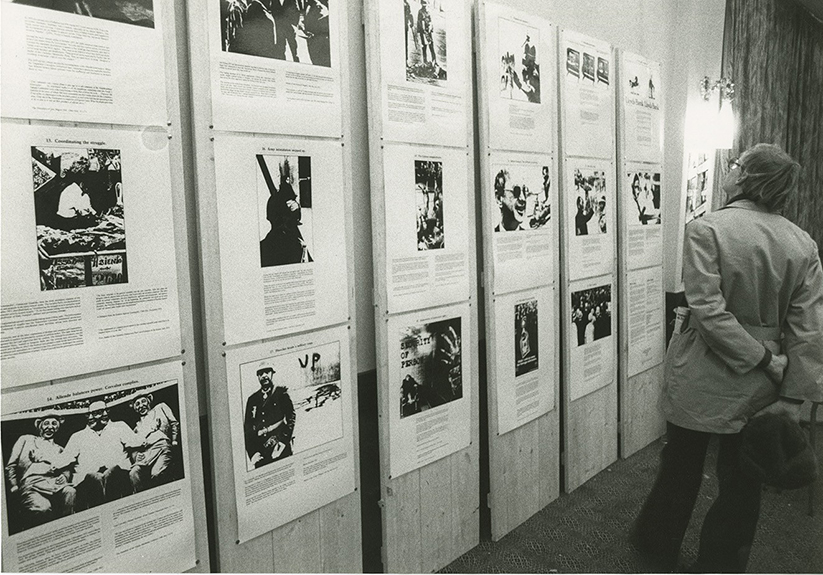 Peter Kennard and Rick Sissions' A Document on Chile, Camden Town Hall, 1978.
We are on the lookout for archive material related to the Half Moon Photography Workshop's programme of laminated touring exhibitions.
Formed in East London in 1972, the Half Moon Photography Workshop (HMPW) played a radical role in reshaping the photographic landscape of Britain. Its members sought to open up debates on the politics of representation and broaden access to photography outside of established cultural institutions.
In 1976 the HMPW pioneered an effective technique for bringing the work of young, socially-conscious photographers to audiences nationwide: laminated touring exhibitions. Photographs and text were arranged on A1 panels then coated in plastic. Sent by British Rail's Red Star parcel service, between 1976-84 over 50 laminated touring exhibitions travelled to venues around the country, from art centres and universities to prisons, churches and laundrettes.
The exhibitions documented working lives and disappearing traditions, shed light on conflict at home and abroad, and engaged with identity politics. They offer a unique insight into a turbulent era, and reveal an alternative photography ecosystem that reached far beyond gallery-going audiences.
While many of the laminated panels are now lost, an extensive collection of archival photographs, posters and documents remain. Accessible via Four Corners' digital archive, this material offers a valuable insight into the content and reception of the touring exhibitions, but there is much more to be found.
As part of our Heritage Lottery supported Hidden Histories project, Four Corners is carrying out exciting new research into this important body of work, and we need your help:
Do you remember seeing a laminated touring exhibition?


We would like to interview you.


Do you have any related material, such as photographs, letters or invitations?


We would like to scan this material for our digital archive.
If you have any memories or materials to share, we would love to hear from you.
Contributions will support an exhibition and accompanying publication, launching in Autumn 2021.
---
Want to receive updates about posts like this straight to your inbox? Join our mailing list.