Brick Lane 1978: Luthfa Begum's Volunteer Story
I was born in London and grew up in Brick Lane during the '70s and '80s, just a couple of doors down from what used to be the old Naz Cinema. And then University beckoned, I stepped onto the old East London Line in the '90s and made South London my home. So it wouldn't have been surprising if news of this project passed me by and yet it came calling, twice, from two separate quarters.

My good friend Brendan, resident of Isle of Dogs and subscriber of the East London Advertiser, forwarded on the article which launched the project back in Autumn 2019, calling for volunteers. He knew I had grown up in Brick Lane and I'd once told him a little about my Dad, Taiyabur Rahman, and how involved he was with community politics in the area back in the day and he thought it would be of interest.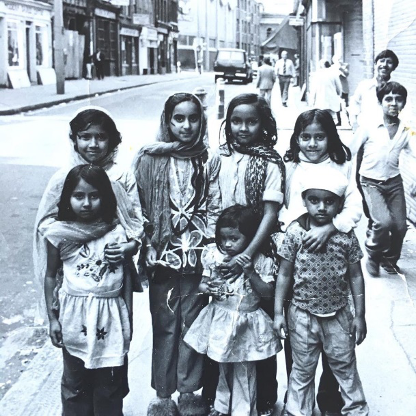 Top row: Parul far left, Sauda, far right.
Photo: © Paul Trevor
In the same week, my older sister, Parul afa, had gone along to an event with our cousin Sauda afa, to meet the photographer Paul Trevor who had captured them on their way to mosque back in 1974. She excitedly shared a photo she came across at the event which showed Dad amongst a group of men handing in a petition to Downing Street, demanding better protection for the Bengali community following the stabbing of Altab Ali in May 1978.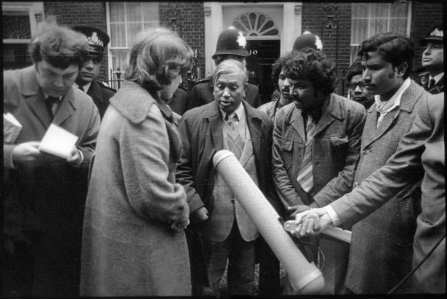 Taiyabur Rahman centre. © Paul Trevor 2021
How could I not get involved? I had just left full-time employment to become a freelancer and felt I could give some time to revisit a period of history that I was present at but saw only through a child's bewildered eye. I vaguely remember my Mum keeping us home one Saturday because the NF were marching down our street. She was stood beside me at the window as we watched them chant their racist slogans. I remember asking her what it was all about and she told me they didn't want us here. I was about 5 years old and possibly trying to work out where they would have us go, as this was our home.

My father passed away 30 years ago when I was 18 and I never got to spend time with him as an adult and ask him about his struggles, his activism, and what it meant to build a life for us here so there was also a sense that I could maybe have that 'conversation' with him through this project. He too loved taking photographs and was what we'd now call an early adopter – he always had the latest gadgets (don't get me started on the Betamax) and had a beautiful Minolta camera that he used to sling over his shoulder. I remember him showing us slides of meetings at the Naz cinema but he mostly took photos of the family here and in Bangladesh. My interest and love of photography probably comes from him and also drew me to my first volunteer meeting at Four Corners.

Over the last year, in between lockdowns, through fortnightly zoom conversations with a small team of resilient volunteers (held together by the good people at Four Corners and Swadhinata Trust), we've managed to pour through library archives, disappear down internet rabbit holes, and immerse ourselves in the societal tensions and resistance of the Bengali community of Spitalfields in the 1970's, visually accompanied and guided by Paul Trevor's illuminating photographs. The research has enabled us to recreate the social and political context of the time but the thing that's brought the project to life for me has been the in-depth eyewitness interviews - conducted remotely in this turbulent year - with the then teenage activists portrayed in Paul Trevor's photographs.

We're just a third of the way through the interviews but us volunteers have remarked admiringly on the defiant will of a passionate group of young activists to organise, stand strong, and fight back. Within my research, I've heard mention of Dad just a few times and I'm acutely aware that he's not here to add his voice to the oral histories we've collected. He was much more involved in the Bangladesh Liberation War a few years earlier but I know he helped organise the petition and would have used his connections and influence to galvanise the wider community beyond Spitalfields so that on the day, 7,000 people marched with Altab Ali's coffin in the pouring rain from Brick Lane to Downing Street.

We're in full throttle now with the interviews and with a little more promotional activity from Four Corners, we're hoping more people will come forward. I've recently spotted the young face of my cousin Humayan bhai, now a Councillor in Croydon, in a flat cap amongst a sea of faces (he's also the older brother of Sauda afa).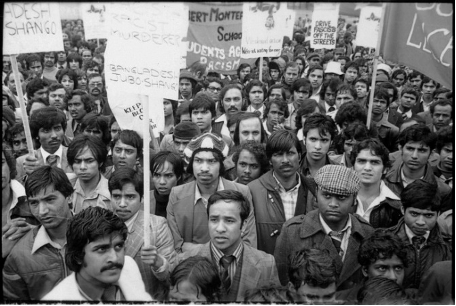 And finally, I'm most excited about a forthcoming group interview with my sister, cousin, and their friends so we can add to the project the voices of the young girls who were also dodging the racists and navigating Brick Lane as the Bengali families started to establish themselves in Spitalfields over 50 years ago.