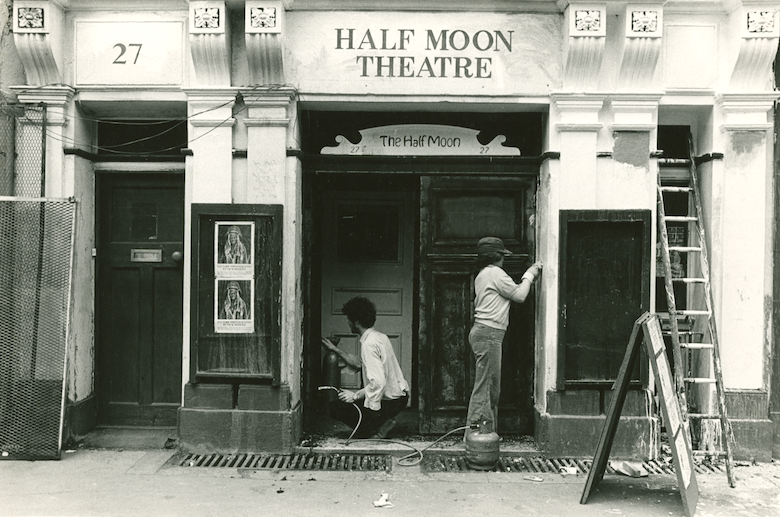 This November, discover how trailblazing photography exhibitions toured 1970s Britain with the help of a humble laminating machine.
Four Corners' latest exhibition tells the remarkable story of the Half Moon touring shows, revealing a little-known moment in British photographic history.
In 1976, photographers at East London's Half Moon Gallery developed an innovative approach to exhibiting. With little money, a leaky roof and a DIY attitude, they arranged their work on card panels and ran them through a laminator, creating unpretentious exhibitions-in-a-box that travelled the country via British Rail.
Documenting working lives and rural traditions, shedding light on international conflicts and injustices closer to home, the Half Moon touring shows introduced powerful imagery by an emerging generation of socially engaged photographers including Daniel Meadows, Susan Meiselas and Chris Steele-Perkins, alongside the work of activists and artist-educators. Their visually striking sequences of images and text offer a compelling picture of 1970s political concerns and social conditions that still resonates today.
Bypassing elitist arts institutions, the exhibitions toured to alternative venues including community centres, left-wing bookshops, student unions, churches, a prison and even a laundrette. By 1984, over fifty shows had reached people across the UK, playing a pivotal role in how documentary photography was seen and used.
Photography on the Move offers a unique opportunity to see some of the surviving original panels, alongside archival material that tells the story of their production. With the support of the National Lottery Heritage Fund, Four Corners has digitised many of the touring shows, a selection of which visitors can view in their entirety.
Open Wednesday - Thursday 11.00am - 6.00pm
---
UPCOMING EVENTS
Coming soon.
---
Image: Exterior of the Half Moon theatre, with posters for the touring exhibition Factory Photographs by Nick Hedges, 1977.
©Nick Hedges