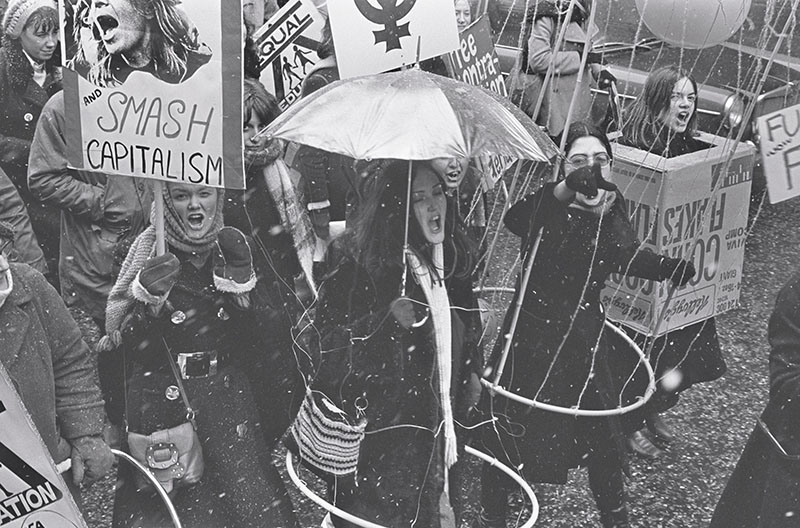 Photographs capturing the women's liberation movement, on display at Photo Oxford this Autumn
15 OCTOBER - 2 DECEMBER 2021
Striking images from photographer-on-the-ground Sally Fraser capture the fiery beginnings of second wave feminism in Britain. On show as part of Photo Oxford, 'Images of Liberation' reveals a hitherto unseen portrait of the first Women's Liberation Conference and landmark equal rights demonstration that followed. Exhibited at Exeter (formerly Ruskin) College - the site of this groundbreaking historical moment - the photographs return to the place they were taken, over 50 years ago.
Exhibition address: Cohen Quad, Exeter College, Oxford OX1 2HG. For more information, head to Photo Oxford's website.

Open daily, 10am - 4pm.
Please note the exhibition will be closed for 17 -19 November as Exeter Quad has been entered for the RIBA awards.
---
EVENTS
On Friday 15th October, 2-4pm, the curators will be on-hand to answer questions, alongside participants from the Women's Liberation Conference, 1970.
On Thursday 28th October, 6.30-7.30pm, we will be joined online by Chandan Fraser, alongside conference organisers and attendees Sally Alexander, Sheila Rowbotham, and Sue O'Sullivan to discuss the beginnings of the Women's Liberation movement. See recording of event below.
---
Four Corners' Spring 2022 exhibition, Photographing Protest, includes many of Sally Fraser's photographs alongside work by other women photographers with a focus on struggles for equality, representation and social justice.
---
ABOUT THE ARTIST
In the late 1960s Chandan Fraser - then known as Sally Fraser - studied photography at the London College of Printing and became an activist in the city's increasingly politicised scene. She captured images of the emerging movements of which she was part: the huge anti-Vietnam war protests and influential student activism at Hornsey College of Art in 1968. She joined the Tufnell Park women's group and headed to Oxford in 1970 to photograph the inaugural national women's liberation movement conference. A year later, she went on the first International Women's Day march through central London. Some of her images appeared in pioneering journals, notably Black Dwarf and Spare Rib, others featured in the mainstream press, distributed through the Report agency. Shortly after, Chandan Fraser gave up photography. 'I wanted not to be continuously in the observer position. I wanted to be part of it.' She took up her camera again for last year's gathering in Oxford to mark the fiftieth anniversary of the first women's liberation conference. Chandan has never had a UK exhibition of her work nor a publication reflecting its scope and strength. She lives in France.
---
PARTNERS
Images of Liberation: Sally Fraser's photography of women's protest is a Four Corners exhibition, produced in collaboration with Chandan Fraser and historian Andrew Whitehead.
Photo Oxford was established to bring internationally acclaimed photography and photographic debate to the city of Oxford. Photo Oxford hosts exhibitions, events and professional development opportunities in collaboration with local, national and international partners to bring photographic excellence to the region, develop new audiences, nurture talent, and promote investment within the sector.
This exhibition is made possible with the kind support of the Barry Amiel and Norman Melburn Trust and the Lipman-Miliband Trust.
---
Image by Sally Fraser