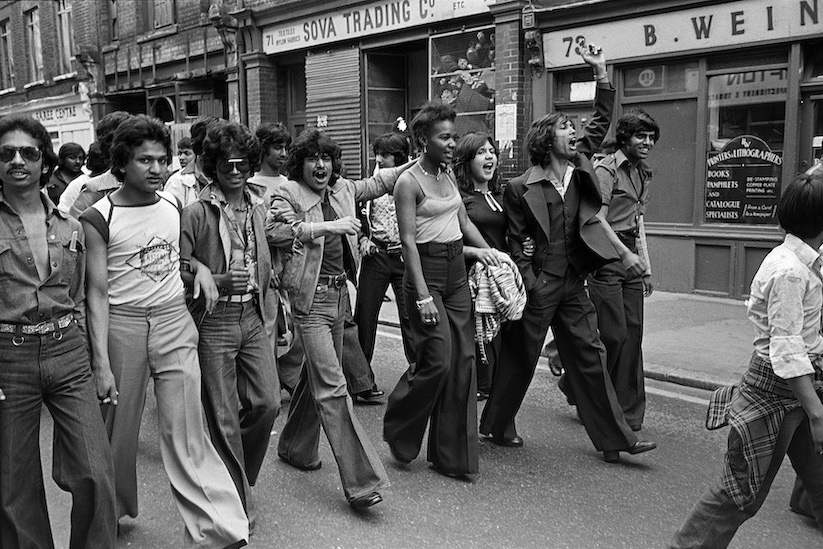 Image by Paul Trevor. Brick Lane, London E1, 17 July 1978. Bangladesh Youth Movement Against racism march.
---
Memories of Brick Lane
---
Join us for the launch of the Brick Lane 1978 short films, made by our volunteers in collaboration with the Rainbow Collective. The screening will be followed by a discussion with some of the activists of 1978, Shiraj Haque, Chunu Meah, Abdul Mukit Chunu and Akikur Rahman, chaired by Julie Begum of Swadhinata Trust.
THURSDAY 14 JULY 2022
6.30 pm - 8.30 pm
Location: In person at Four Corners Studio + Online tickets available
Please note our studio is not wheelchair accessible. If you have any further questions regarding access, please email us.
---
SPEAKERS
Julie Begum has lived in Tower Hamlets for her entire life except for two years volunteering in Nepal. She is an activist and educator who has worked on local and national campaigns for over two decades. In the 1990s she helped set up Women United Against Racism - a group to mobilise local women to defeat the British National Party. She is the Chair of Swadhinata Trust, a London based secular Bengali community group that works to promote Bengali history and heritage amongst young people. Operating since November 2000, the trust promotes Bengali history and culture to ensure its representation as an essential part of the history of Britain and by extension, our contemporary world.
Shiraj Haque was a activist in the Bangladesh Youth Front and is now a major local restaurant owner.
Chunu Meah was an activist who helped found the prominent group the Bangladesh Youth Movement.
Abdul Mukit Chunu MBE was a member of the Progressive Youth Organisation and a former Tower Hamlets councillor.
Akikur Rahman was an activist of the Bangladesh Youth Association.