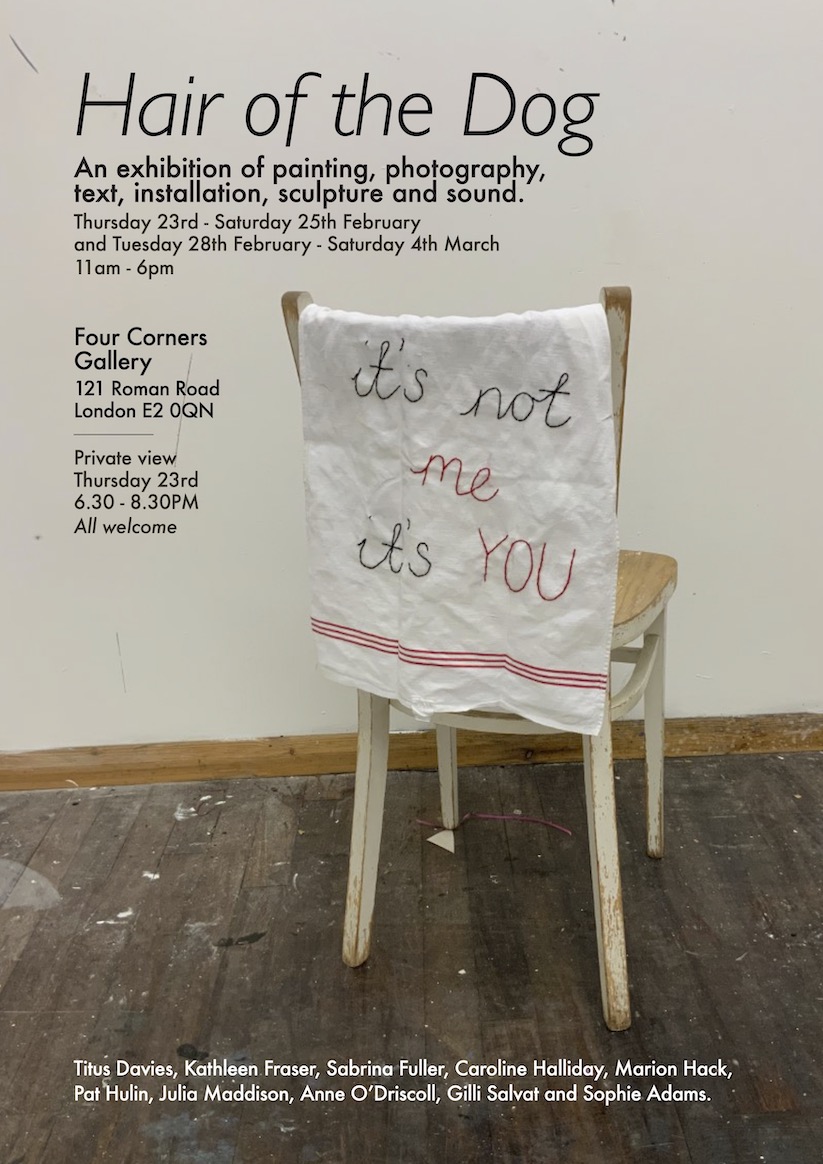 We are delighted host this exhibition featuring work by Titus Davies, Kathleen Fraser, Sabrina Fuller, Caroline Halliday, Marion Hack, Pat Hulin, Julia Maddison, Anne O'Driscoll, Gilli Salvat, and Sophie Adams.
Private View: Thursday 23rd February, 6.30 pm - 8.30 pm
Opening Times:
Thursday 23rd February - Saturday 25th February, 11 am - 6 pm
Tuesday 28th February - Saturday 4th March, 11 am - 6 pm
"The hair of the dog that bit you: the idea that the thing which causes the malady is the best cure or relief, as another drink in the morning is considered by some the best answer to a hangover. The allusion is to the old notion that the burnt hair of a dog is an antidote to its bite.

The show explores a web of preoccupations: painting which delves in to the meaning of 'Hair of the Dog' and its link to alcohol-induced emotional turmoil; others images which – through the hare and the dog – keep looking in to the mind for some sort of redemption; installations which explore the breaking by the cure itself – a ceaseless repetitive grind of disquiet, unrequitedness, restlessness and alcohol; as well as sound and text charting female friends' paths of solidarity and self-destruction – a shaking off of anxiety through the high of doing it all again. Other work includes darkly playful Dada-inspired images; text and photography which binds the human into the non-human world; 3D work exploring the quirkiness of objects and what they can represent, and work founded in the colour and sensibility of Indian heritage.

Hair of the Dog is an exhibition by an intergenerational group of women united by common values and affective bonds, exploring common themes with painting, collage, photography, installation, text, sound and sculpture."