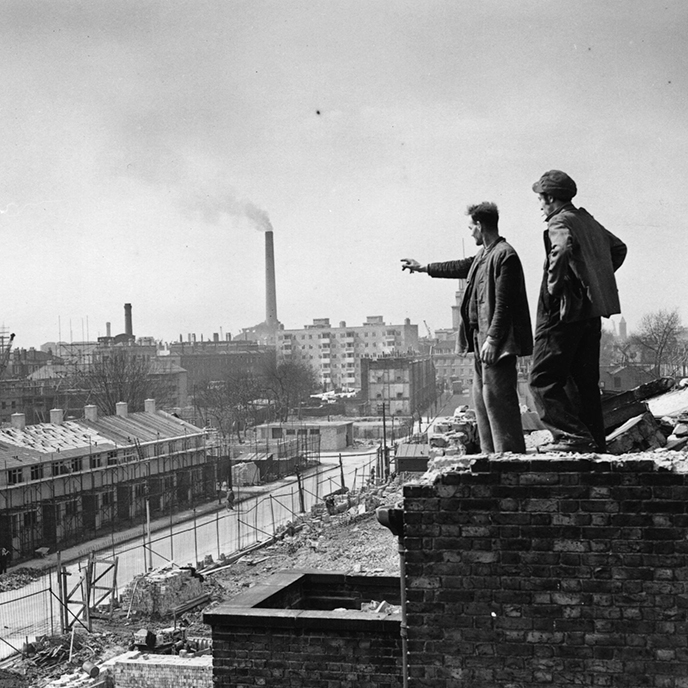 New Houses. A slum clearance operation in Poplar, East London, 19th April 1951 © Monty Meth/Topical Press Agency/Getty Images/Hulton Archive
---
Images of Housing, Homelessness and Resistance in London's East End
Gallery hours: free admission
Tuesday to Saturday 11am – 6pm, Thursday 11am – 8pm (during July and on 31 Aug)
Conditions of Living: Home and Homelessness in London's East End takes a visual journey from workhouses to slum clearances, tower blocks and homeless shelters, to explore how photographs have represented these conditions for over a century. It also features new work by artist Anthony Luvera, which addresses the rise of economic segregation in housing developments in Tower Hamlets, with the phenomenon known as 'poor doors'.
EXHIBITION TALKS AND EVENTS
Thurs 13 July, 7pm. Curator's talk.
Sat 15 July, 11.30 – 2pm. Public and social housing in the East End from the late 19th century, walk with Mike Berlin.
Tues 18 July, 6.30 – 7.30pm. Artists talk with Anthony Luvera.
Thurs 27 July, 6.30 – 8pm. From the Nichol to the Boundary: how London's first planned council estate came to be built, talk by Sarah Wise. Watch here
Thurs 31 Aug, 6.30pm – 8pm. Struggles for better housing and the Stepney Rent Strikes 1937-39, talk by David Rosenberg followed by screening of short films.
Fri 1 Sept, 10.30 - 1pm. Conditions of Living: long table discussion. This event brings together speakers engaged in issues surrounding housing precarity, economic segregation, market-driven 'affordable' homes and social housing today.
PRESS
---
PARTNERS
Four Corners would like to thank Getty Images and Tower Hamlets Local History Library and Archives for their generous contributions to this exhibition.