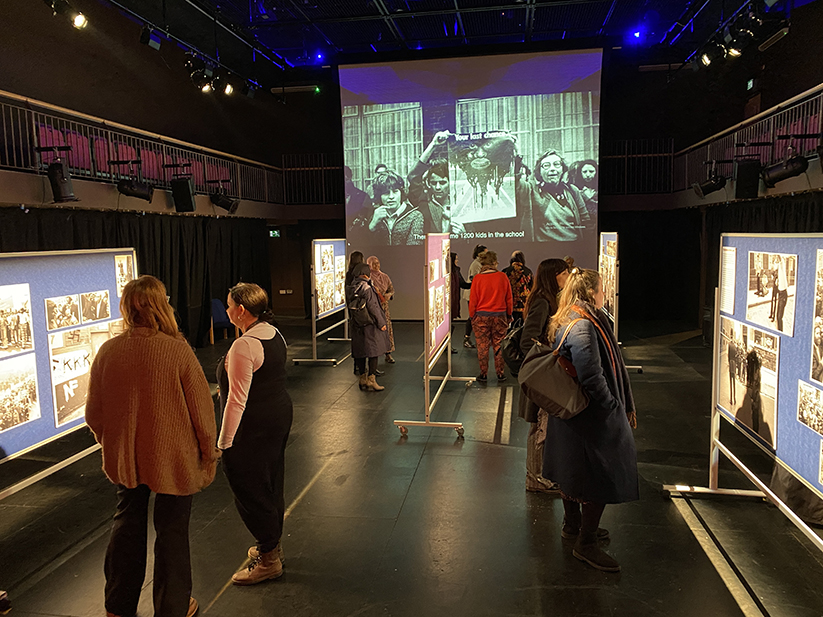 Installation shot from Mulberry Girls School, January 2023
---
Following the success of our show Brick Lane 1978: The Turning Point, at Four Corners Gallery in 2022, the exhibition is now touring venues in Tower Hamlets.
The show was created as part of a major heritage project led by Four Corners and Swadhinata Trust with a dedicated group of volunteers, who interviewed many of the people involved in the momentous events of 1978. It pays tribute to a generation of Bengali activists whose actions helped change the course of social equality in the UK. The exhibition puts on display photographs by Paul Trevor documenting the dramatic struggle for justice which took place after the racist murder of Altab Ali in May 1978.
We are delighted that the exhibition will continue to reach new audiences at schools and community centres in the borough.
---
Brick Lane 1978: The Turning Point - Touring Show locations
Mulberry School
Monday 16 January – Thursday 26th January 2023
Free admission
Opening hours Thursday 19th January, 3.45-6.30pm, Monday 23rd January, 3.45-6.30pm, Thursday 26th January, 3.45-6.30pm
Mulberry School for Girls, Richard Street, Commercial Road, London, E1 2JP
Telephone 020 7790 6327

Osmani Centre
Thursday 2 February – Tuesday 25 April 2023
Free admission
Opening hours Monday – Friday, 10am-7pm
Osmani Centre, 58 Underwood Road, London, E1 5AW
Telephone 020 7247 8080

Toynbee Hall
'Memories of Brick Lane oral history films'
Monday 27 February to Friday 3 March 2023
Outdoor community projector screenings, 6-8pm
Mallon Gardens, Commercial St, London E1 6BG

Brady Centre
Thursday 4 May – Thursday 25 May 2023
Free admission
Opening hours Monday-Friday, 9am-5pm, Saturdays 10am-4pm
Brady Centre, 192-196 Hanbury Street, London, E1 5HU
Telephone 020 7364 7900