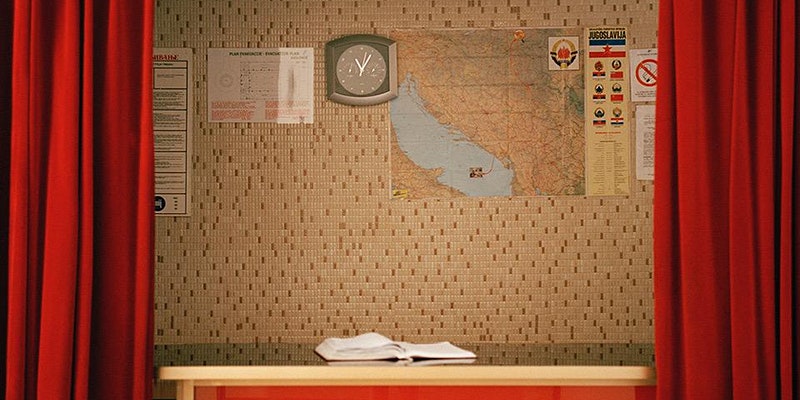 Image © Dragana Jurišic
Join us for a special online event with photographers Dragana Jurisic, Amak Mahmoodian and Eileen Perrier.
Photographers Dragana Jurisic, Amak Mahmoodian and Eileen Perrier will discuss their work in relation to ideas of identity, belonging and Britishness, and how their personal histories of migration and exile have influenced them.
This talk is part of our public programme which has run alongside the exhibition 'Another Eye: Women Refugee Photographers in Britain after 1933'.
---
Dragana Jurišic is an internationally acclaimed visual artist, Assistant Professor at Dublin City University and a Visiting Fellow at the University of South Wales. Working with image, text and video, she has shown her work extensively, winning many awards. Dragana's work is in collections including the National Gallery of Ireland, Arts Council Collection and Irish State Art Collection. Her first book, YU: The Lost Country received accolades worldwide. Her latest book Museum is in collaboration with acclaimed Irish poet Paula Meehan. She is currently working on Something From There in the National Gallery Ireland with a group of asylum-seekers. This project aims to give an insight into the personal narratives of the participants as they reflect upon their possessions and meditate on the idea of home. A final exhibition will open in October 2020 - February 2021. The group was also involved in the production of a stunning film HOME | IRELAND, to be shown as part of the exhibition.
Amak Mahmoodian is a Persian artist based in UK. Her work questions notions of identity, bridging a space between public life and private life, personal and political which draws on her experiences in the Middle East, Asia and the West. Amak's practice explore the effects of exile on memory, dreams and subconsciousness. In 2015, she completed a practice-based doctorate in photography at the University of South Wales, having previously studied at the Art University of Tehran. Working with image, poems and archives , she has shown her work extensively and won numerous awards.
Eileen Perrier's work has been widely exhibited since 1999, including at The Photographers' Gallery, Tate Britain, The Whitechapel Gallery, and the touring exhibition Africa Remix, which included the Hayward Gallery, London and The Centre Pompidou, Paris. Perrier has also been artist in residence at Light Work, New York (in partnership with Autograph ABP); in Playing The City, Kunsthalle Schirn, Frankfurt, and has worked with Tate Britain on their education programme, BP Family Festival: Close Encounters of the Art Kind. Perrier is a Senior Lecturer in Photography at The University of Westminster.
---
HOW TO JOIN
The conference will take place via Zoom.
- Attendees will be sent a link to join the meeting on Thursday 15 October.
- You can download Zoom here
---
PARTNERS
This talk is part of Four Corners' Another Eye programme, generously supported by the Arts Council England, London