Memories of Brick Lane Oral History Films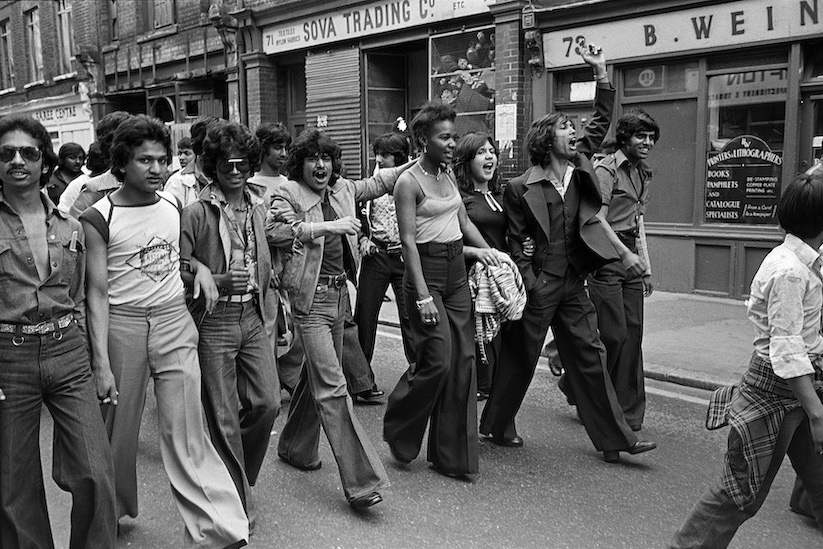 This series of short films shares the stories of the Bengali activists who fought for social justice in 1970s East London, in their own words.
Through combining oral history with documentary photographs, these films draw from the lived experience of activists directly involved with East London's 1970s anti-fascist movement, retold alongside photographs taken by Paul Trevor, who documented this dramatic moment in time.
We see images of local businesses/workplaces as well as inside family homes, and young people playing or gathering on the street. These are juxtaposed with images of far-right rallies and the protest and resistance of Bengali activists and their allies, anti-racist groups. The accompanying oral testimonies recall Brick Lane as it was in the 1970s, and its inhabitants' resistant spirit.
Our struggle is not political, it was for survival; [it was] about how we can survive in Tower Hamlets.

Every day we used to have demonstrations, meetings... not just us but the entire community was involved, saying: 'we are here, here to stay'.
---
These films comprise part of the project, Brick Lane 1978: The Turning Point, a collaboration between Four Corners, Swadhinata Trust and Paul Trevor set up to document this important social history.
Films produced by the Rainbow Collective in collaboration with the Brick Lane 1978 volunteer team.
---
Chapter One: Everyday Life
Bengali activists recall growing up in Brick Lane and surrounding neighbourhoods during the 1970s, an era of serious deprivation and racial injustice in the borough.
---
Chapter Two: Everyday Racism
Sharing their experiences of growing up in Brick Lane and its surrounding neighbourhoods in the 70s and 80s, Bengali activists remember the stark racial divisions and violence that marked the area.
---
Chapter Three: Community Resistance
With the rise of the National Front in East London, the Bengali community took steps to support one another, such as by forming the Bangladeshi Youth Movement for Equal Rights and patrols to help people travel safely on the streets.
---
Chapter Four: The Murder of Altab Ali
On 4th July 1978, a Bengali garment worker named Altab Ali was brutally murdered in a racially motivated attack. This tragedy served as a rallying cry to the anti-racist movement in Brick Lane. Here, local activists recall this disturbing event, and its transformative effects on the community.
---
Chapter Five: The Battle of Brick Lane
Following the murder of Altab Ali, Bangladeshi community activists banded together to lead a demonstration of almost 10,000 from Brick Lane to Hyde Park Corner, demanding their voices to be heard.